GREETING
Since its opening in 2002, Hatago has been patronized by many people as a culinary inn in the Arima area.
The inn has been reborn in pursuit of even greater luxury, with a restaurant that focuses on the kappo counter, where Tadamichi Ota's essential, kyakumae ryori is performed up close to the guests, and a "kinsen(golden spring) guest room open-air bath" in all rooms for privacy and comfort.
Enjoy your premium stay to your heart's content in Arima Onsen.
CUISINE
Dynamic kyakumae ryori (cooking in front of guests) that stimulates all five senses.

A chef is a first-class cook only when he or she goes in front of the customer, gives a thorough explanation of the dish, and makes the customer happy.
Ota holds this idea to be the essence of cuisine, and "kyakumae ryori" was born from this principle.
The various performances by the chefs who cook across from you will make your trip to Arima even more enjoyable.
Seasonal kaiseki cuisine that brings out the essence of the four seasons in Japan

For our cuisine, season and timing are of utmost importance.
We express the early, seasonal, and remnants of the season in our cuisine, and we use cooking methods that bring out the best of the seasonal ingredients.
The performance of kyakumae ryori is fun, but it can be both tasty and amazing only through a solid base skill of Japanese culinary arts.
We hope you will enjoy our unique cooking courses while savoring the moment.
Kappo counter seating with an abundant sense of presence

For guests to enjoy the kyakumae ryori, the dining area is centered around a kappo counter facing the chef.
With good conversation as well as observation of the ingredients and cooking techniques, we hope you will fully enjoy the chef's live performance right before your eyes.
We can also adjust the seasoning to your preference.

Dining / 18:00~21:00(L.O.19:00)
Breakfast / 07:00~09:30(L.O.08:30)
ROOMS
All rooms are equipped with an open-air bath offering Japanese modern healing spaces

Arima is famous for "Kinsen" (golden spring) hot spring.
All rooms are equipped with an open-air bath so that guests can fully enjoy Arima's hot spring water in private.
The guest rooms with various arrangements, ranging in size from 90 to 60 m², are equipped with Simmons bed mattresses for a quality night's sleep.
In your room, we have a selection of locally produced beverages and snacks from Kobe and Hyogo Prefecture prepared for you to enjoy all for free.
【101】
Hatsuzora (85m²)
【102】
Kagetsu (65m²)
【103】
Satsuki (65m²)
【201】
Kangetsu (90m²)
【301】
Eigetsu (60m²)
【302】
Sogetsu (65m²)
HOTSPRING
Excellent heat retention and skin beautifying effects"Golden spring" with high iron and salt content

"Kinsen" hot spring water, one of the "Three Famous Springs of Japan" and "Japan's Three Great Medicinal Baths," is used in the open-air baths in each guest room. Among them, we use "Gokuraku-sengen" hot spring water, which contains twice as much salt as seawater, and the way it warms you is truly exceptional.
Arima Onsen is the oldest and most famous hot spring in Japan, with its history going back to the era in "Nihon Shoki (the Chronicles of Japan)." There are two types of springs: "Kinsen," a muddy spring with high iron content, and "Ginsen," a silver spring with high carbonic acid content. It contains eight of the nine qualities that are considered to be therapeutic springs, which makes it one of the world's rarest and finest springs.

Spring quality …Gokuraku-sengen Golden spring, Iron and sodium (High temperature chloride strong saline springs)
Spring water temperature etc. …94°C (201.2°F), originating from 240m below ground
Health benefits…Moisturizing, promotion of blood circulation, healing of knee pain, joint pain, neuralgia, cold, and cuts, and sterilizing effect
*The open-air guest room baths do not use free-flowing hot-spring water.
Facilities & Fixtures / Amenities
Facilities & Fixtures

Open-air bath / Individual air conditioning / Internet / Telephone / TV / Refrigerator / Safe / Closet / Toilet with bidet / Humidifier / Tea sets / Electric kettle / Hair dryer (Dyson) / Hand mirror with light / Bath towels / Hand towels / Yukata (light cotton kimono)/ Samue (working clothes) / Bathrobe / Tabi socks, etc.
Amenities

POLA's Top of the line B.A skin care set (cleansing cream, face wash, toner, milky lotion) / GACHI (for men) face care kit / RAZOR's hair shampoo / hair treatment / body soap / body lotion / toothbrush set / razor / hair brush / Ladies' Set (cotton balls, cotton swab, hair clip, shower cap)
ACCESS
ADDRESS

1389-3 Arima-cho, Kita-ward, Kobe-city, Hyogo 651-1401, Japan

TEL

FAX

MAIL
By Train

■About 30 minutes from "Sannomiya Station" of Kobe Municipal Subway

From "Sannomiya Station" on Kobe City Subway-Seishin-Yamate Line, board a train bound for Tanigami and get off at the last stop "Tanigami Station". Then at "Tanigami Station" of the Kobe Electric Railway, board an Arima Line train bound for Sanda, at "Arimaguchi Station", change to a train bound for Arima Onsen and get off at the last stop "Arima Onsen".

By Car

■From Sannomiya Station Approx. 20 min.
Via Shin-Kobe Tunnel → Minoya Ramp → Hanshin Expressway Kita-Kobe Line → Arimaguchi Ramp → Prefectural Road 51

■From Osaka area Approx. 1 hr.
Via Chugoku Expressway→Nishinomiya Yamaguchi JCT→Hanshin Expressway No.7 Kita-Kobe Route →Nishinomiya Yamaguchi Minami Exit →Prefectural Road 98

■From Okayama area Approx. 2.5 hrs.
Via Chugoku Expressway→Nishinomiya Exit→ via Prefectural Road 98

By Bus

■From Sannomiya Bus Terminal Approx. 30 min.
Take JR Expressway Bus "Arima Express" and get off at Arima Onsen Bus Stop

■From Osaka Station JR Expressway Bus Umeda Terminal Approx. 60 min.
Take JR Expressway Bus, "Arima Express" and get off at Arima Onsen Bus Stop.

■From JR Kyoto Station Approx. 70 min.
Take JR Expressway Bus, "Arima Express Kyoto" and get off at Arima Onsen.

By Air

■From Itami Airport Approx. 30 min.
Take Hankyu Bus (Limousine) for "Arima Onsen" and get off at Arima Onsen Bus Stop.
*Note: Only 3 runs per day.

■From Kobe Airport Approx. 50 min.
Take Port Liner to Sannomiya→Take JR Expressway Bus, "Arima Express" and get off at Arima Onsen Bus Stop.
【Pick-up Service】
Free pick-up service is available from Shintetsu Arima Onsen Station, bus stops in Arima Onsen, and Ropeway Arima Station.Please let us know at the time of reservation if you wish to use this service.
【Caution】
The parking lot in front of the entrance is narrow and steep, so we will guide you to another parking lot if your vehicle is low in height.We kindly ask you to call us in advance.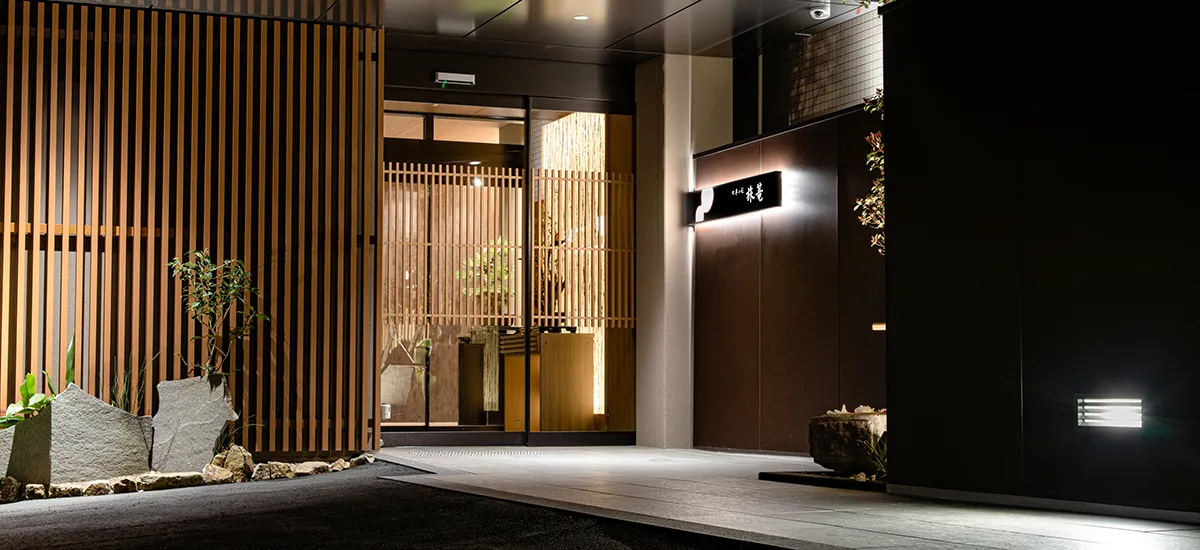 INFORMATION
Number of guest rooms

6 rooms
Check-in / Check-out

15:00 / 11:00
Parking

6 cars (no reservation required, free of charge)
Internet

Free Wi-Fi available
Meals

Served in the dining room for both dinner and breakfast (counter and table seating)
Acceptable Credit Cards

VISA / JCB / American Express / UC / DC / Master Card
Cancellation Policy

The day of or 1 day before the check-in : 100% of the room charge
2 to 3 days before the check-in date: 50% of the room charge 
No-show without notice/ No arrival: 100% of the room charge
Allergy Policy

Allergy-friendly dishes are available.
Dishes for the elderly are available.
Other

A bath tax of 150 yen is required.
There are handrails in the building for barrier-free access.
The minimum number of guests required to stay at the hotel is 2.
We do not accept children 12 years old and under.